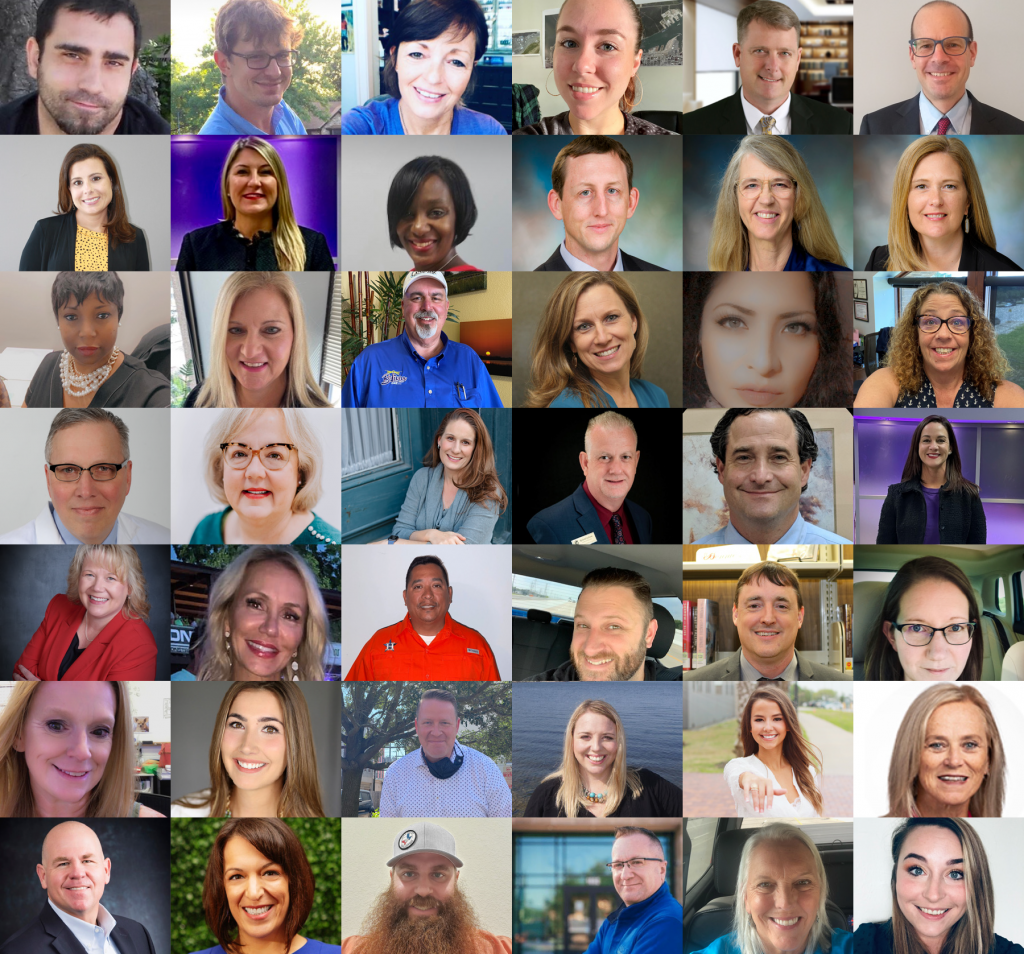 GALVESTON, TX – September 21, 2021 – The Galveston Regional Chamber of Commerce is pleased to announce the 2022 class of Leadership Galveston.
Founded in 1984, Leadership Galveston is an educational opportunity that broadens perspectives and allows participants to gain increased understanding of community dynamics and public issues.
"I am excited about this year's Leadership Galveston class", said Lorraine Grubbs, director of the Leadership Galveston program. "We have a record number of 42 participants, attesting to the value our community finds in this program. We look forward to working with our community partners to educate Galveston leaders throughout this experience."
Over the next nine months, the class will meet monthly in various locations around the island to learn about every facet of the community, enhance their community leadership skills and develop strong relationships to encourage innovative, collaborative solutions to the challenges facing our region. The participants will also receive their Certified Tourism Ambassador (CTA) through the Galveston Island Convention & Visitors Bureau.
"Leadership Galveston gives participants the opportunity to better understand our city and to prepare for the challenges it faces by meeting with and learning from today's leaders", said Gina M. Spagnola, president and CEO of the Galveston Regional Chamber of Commerce. "It is our hope that each graduate will use the knowledge and enhanced leadership skills gained through the program to bring positive change to Galveston."
More than 600 graduates have completed the program, learning all about what makes Galveston go—from its unique economy to its largesse of educational institutions to its diverse culture and attractive lifestyle. All major local businesses, most smaller companies and non-profit organizations embrace Leadership Galveston as a staple for any managerial or executive-level employee who is new to our area.
The members of the Leadership Galveston class of 2022 include:
Tony Alves, The Bryan Museum
Kevin Bell, Bell Realtors
Renae Bentley, Classic Auto Group of Galveston
Ellie Byrom, Port of Galveston
Kyle Clark, T. Baker Smith LLC
Dr. Peter Cram, UTMB
Marika Dapron, Moody Bank
Lisa Dill, GISD
Synethia Dorsey, GISD
Dr. Norman "Miles" Farr, UTMB
Elizabeth Fingado, UTMB
Emily Goertz, UTMB
Jozette Green, Coastal Community Federal Credit Union
Bobbie Guyton, UTMB
David Harris, Coastal Outdoors Group and Bolivar Peninsula Tourism & Visitors Center
Michele Hay, City of Galveston
Brenda Hernandez, GISD
Schel Heydenburg, Galveston Island Park Board of Trustees
Dr. Dietrich Jehle, UTMB
Susan Keeble, Galveston Island Park Board of Trustees
Jennifer Kelso, Oleander Marketing
Richard LeJeune, Coastal Community Federal Credit Union
Michael Lerner, Moody Bank
Jenny Ligon, Galveston Career Connect
Dr. Cissy Matthews, Galveston College
Susanna Mayberry, Remax
Rey Medellin, Island Resilience Center
Joseph Miano, BSN, RN, Memorial Hermann
Mike Miller, Rosenberg Library
Johanna Murton, GISD
Kristi Neal, Galveston County Daily News
Tracey Nowlin, Ryson Real Estate and Vacation Rentals
Jeffery Ossenkop, The Tremont House
Liz Overton, Ryson Real Estate and Vacation Rentals
Dakota Patrick, Galveston Insurance Associates
Patti Polensky, Guild Mortgage
Chris Pruitt, Channel 39
Carly Rowland, VACASA
Gregg Truex, Texas Tail Distillery
Kevin Venable, AMOCO Federal Credit Union
Dena Walker, Odyssey Academy
Lani Wilson, Texas Tail Distillery
The Leadership Galveston class of 2022 officially kicks off on Friday, September 24 with a welcome reception and overnight retreat at The Tremont House.